When we set out to build TwoSeven in 2015, a service named 'Rabbit' was very much still around. Rabbit employed a browser on a Virtual Machine in the cloud which all participants connected to, to watch videos together. Why then, did we build yet another service, despite all our well-meaning friends telling us that we already had a big competitor in this space?
We built it for ourselves, primarily for one reason: video quality. In today's 4K world, we didn't want to compromise on video quality while sharing the experience of watching together. Especially when we knew that we didn't have to.
TwoSeven has since grown beyond its original purpose of personal use to watch Game of Thrones together when we were in a long-distance relationship. We take pride in the fact that we've been able to provide you all with the same high-quality video co-watching experience that we once wanted.
Given this, you might be wondering (and rightly so) how screen-share on TwoSeven aligns with our objective of watching together in full quality. The short answer – it doesn't. The slightly longer answer – our screen-share feature wasn't built to enable watching videos together!
1. Quality
We've already spoken about this one at length above, but here's why screen-sharing is a foe of quality.
On TwoSeven, you stream your videos directly from the source that you're watching from. We handle loading the same video for everyone, and synchronizing play/pause/seek actions. This is how you're guaranteed to watch videos in high quality, depending on the video in question and the strength of your internet connection.
This is actually a lot of work on our end compared to the lazy solution of simply transmitting what your screen is displaying. We put in extra effort to ensure that we can translate all your actions, so we can perform them on all your friends' machines. And this is effort that we put in each time a website changes their buttons or code. (If you enjoy using TwoSeven, we'd greatly appreciate your support for our work: Patreon/Ko-Fi).
However, if you share your screen with a video playing on it, the other participants no longer stream directly from the source - they stream from you! Your machine, in addition to streaming the video for you, now needs to perform an encode and upload of the pixels on your screen.
As a result, your friends will see a significant drop in video quality depending on your upload bandwidth and your computer's capability to encode the video. They might also find the video and audio choppy as your computer drops information to keep up with the speed of the video.
2. Bypass need for streaming service accounts
As service providers ourselves, we understand that it takes a significant amount of time, effort, and money to build and maintain a service.
While it is sufficient for one person in a room to be a TwoSeven supporter for all participants to enjoy certain supporter-only benefits, we cannot in good conscience recommend that you treat other services the same way.
Refraining from broadcasting copyrighted videos to others will not only make you a good citizen, but will also save you from violating certain Terms of Use that you agreed to when you created your accounts with these services.
Since early 2020, we've all seen various aspects of our previously normal life change. We're learning that most tasks that we previously carried out in person can almost as effectively be handled online.
In this regard, we've heard from a number of our users – you guys – about various ways in which you'd like to use TwoSeven. We continue to prioritize and incorporate your requests to shape our service to best serve you while staying in alignment with our core vision for TwoSeven.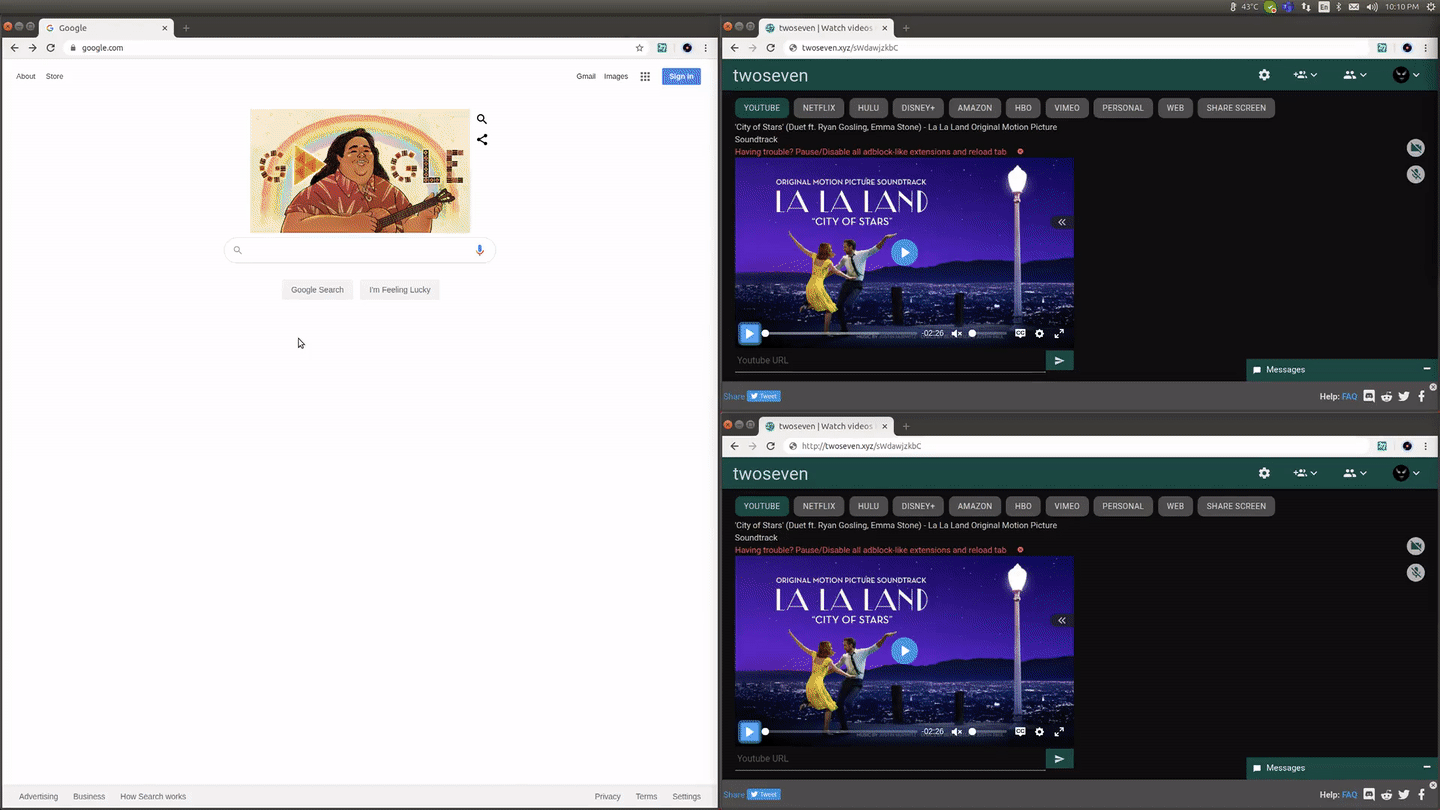 As we learned more about how you'd like to use this platform, multiple use-cases pointed to screen-share as a solution:
1. Hosting online workshops (webinars/tutorials)
With a surge in people world-over turning to rekindle old hobbies and pick up new skills, we're certain that our screen-share feature will be helpful to anyone looking to host or participate in online workshops.
Here are some examples of workshops where participants will benefit from viewing the host's screen:
Coding workshops
Digital art workshops
Photo/video editing workshops
Other events employing power-point presentations
2. Selecting a video to watch together
Part of the joy of movie nights with friends is scrolling through your Netflix (or other) collection together while debating what to watch next – something you were unable to do on TwoSeven until now.
With our new screen-share feature, you'll be able to share your screen while choosing your movie together, and then load it in full quality using the TwoSeven extension to watch together – all without the need to switch between applications.
Watching movies isn't the only thing we enjoy doing together, right?
We, for example, recently spent a considerable amount of time sharing our screen with our families to select photographs that we want to print in our wedding album. We're also using screen-share to guide our family through making online bank transactions – a skill that wasn't a necessity in India until very recently.
We envision that you'll be able to use screen-share for numerous such activities:
Online shopping
Reading articles
Pair programming
Going through old photographs
Coming up with new designs
Sharing your work
Because when you're all looking at the same thing at the same time, your options for activities to do together become virtually endless!
We hope you enjoy using screen-share on TwoSeven (currently a supporter-only feature), while letting us serve your video co-watching needs through our mainstream, high-quality solution.